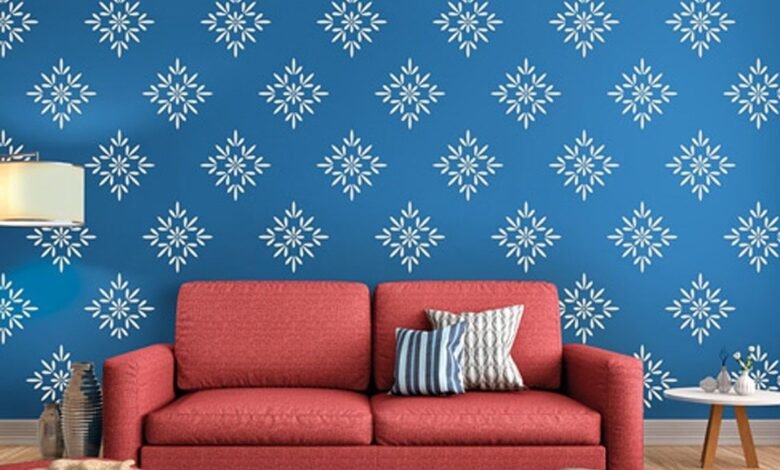 Texture and stencils are wonderful ways to enhance your home decor and make it more elegant. Using textures can play with your sensory perceptions while colorful stencils can heighten the visual elegance of the space. There are a variety of creative options that can be used with different colors and multiple patterns. You can use texture and stencils in your living room, bedrooms, kitchens, and dining rooms. Here, we will introduce you to some of the most amazing trends that have been in vogue.
Top textures to choose
Textures can be used for a variety of purposes in homes. It can be used to create a focal point for the room. Shiny textures make the room brighter, while rugged textures make it cozier. They can give a wide range of effects.
Check out the top interior house paint colors to add more elegance to your space.
Using soft texture can give a sensation of openness and lightness in the room. It can balance the effect of a dark color to give a mild and toned-down effect. Some of the most popular examples of light texture designs by Asian Paints are Safari Classic, Brushing, Canvas, and Dune Drizzle. These textures are perfect for soft interiors. Colorwash, Dapple, and Marina are also some interesting textures to explore. Using wood and metal surfaces can also be an elegant way to add texture. They give more detailing to your walls and give a better sense of perception in the room.
For exterior walls, the textures should be chosen to give a coarser effect. This forms a rough surface that gives a tough appearance and also protects the wall from damages. Best texture surface can be provided by using tough rock and sandy materials
Top stencil designs
Stencils come in a range of beautiful patterns and motifs representing various forms of art and design traditions. They can be used in multiple shades that come out in contrast with the main color of the walls.
If you want to have simple borders on the edges of the walls, you can try Classy Creepers, Maragaret, and Rising Waves to add a touch of design. These designs can be suitable for any type of room. They create a pleasing effect on the walls.
Check out the best outside color of Indian house with us.
If you want to cover entire walls with stencil motifs- you can try Rich Tapestry, North Star, and Wheels of Fortune. They give an elegant look to space with their detailed design and vibrant colors. Graphics of plants, trees, and animals are also widely popular to give a touch of nature to your space and add a sense of serenity. Some of the most popular designs are Dreams of Paradise, Spring Diaries, and Summer Bloom. Designs like Stardust, Damask, and Kaleidoscope can give a royal touch to your walls with their heavy detailing and traditional connotations.
You must have realized that there is no end to the wide creativity of textures and stencils. Use them in your homes to create the perfect vibe that cannot be gained with simple, plain walls.

For more articles visit this website