Travel
Tadiandamol Trek-A Perfect Detailed Guide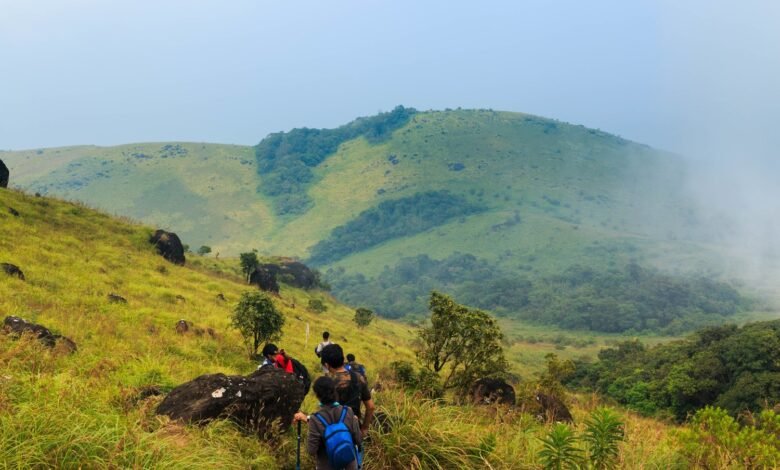 Tadiandamol Trek:
Tadiandamol Trek is a very popular trek amongst the trekking communities. This trek will takes you to the highest peak of the Kodagu district which is known as the third highest peak in the Karnataka district. Trek will test your energy level as an experienced trekker. This trek can be taken only by the fit beginners, the person with full energy and strength can easily take this trek.
Best Season to do the Tadiandamol Trek:
The best season to do Tadiandamol trek – September to February.
In summer season due to high temperature, it may cause to wildfires. So, the trekking is banned during the time of summer season (April to June).
As this region may receives heavy rainfall during the monsoon season. If you wish to take a monsoon trek, be ready with all the right gears as this difficulty of the trek also increases, when you go during the peak of monsoon.
Difficult sections:
There were no such difficult section to keep in mind while trekking.
• Trekking in the forest region may be slippery.
• Make sure, you were wearing proper trekking shoes.
• Must carry two trekking poles with you.
• Crossing the forest section will be little tricky.
• The final stretch to the peak will be very slippery in case of raining season.
• GPS is highly recommended during trek.
How to reach Tadiandamol Trek:
The trek starts from a small village called Kakkabe, it will be about 25 km from Virajpet which is one of the main towns in Virajpet district of Madikeri, Karnataka. Virajpet is located on the borders of both states, Karnataka and Kerala.
Reaching Tadiandamol by your own vehicle:
Do you have any planning about reaching Kakkabe using your own vehicle ?
If yes! Take the Bangalore to Mysore highway ,Your target will be about going to Virajpet first, you will enjoy this whole drive until you reach either of the sharp left turn of Aramane junction.
Permission and Camping on the Tadiandamol trek:
If you are going for trek, you need to get permission from the trek of Tadiandamol. It falls under the Bhagamandala Range Forest of the Brahmagiri Wildlife Sanctuary. Later, You will reach check-post on the trail while trekking.
The entry fee will be Rs-100 per person.
Staying Options near Tadiandamol Trek:
During trekking, if you lead to stay overnight, there were few options before the start point of the trek. Also , You have a few resorts for you to select from. So there will be no fear about staying and Safety overnight.
Timings on the Tadiandamol Trek:
The Trekkers were allowed to trek only between 6 am to 6 pm on all days, Even in  2:30 pm. Hence, the best timeing to start the trek will be early morning and  before noon.  It takes  about 3 to 4 hours for the trekking.
So it is not allowed to start your trek in the afternoon
Food and Water sources:
Kakkabe will be your last source for food.
For water sources – you can find two streams also a waterfall on the trail. It will be very clean and freshwater flowing down. This water will be pure to take.
Bhagamandala Forest Department:
In the time of trekking, due to any emergency, you can contact the forest office of the Bhagamandala Forest division. They have provided contact number for any emergency purpose, you can contact the Pan-India Emergency Response Support System (ERSS) number- 112.
ATMs and Network on the trek:
ATMs: There where two villages – Virajpet and Napoklu , these towns having the nearest ATMs. But , It will be better to carry cash with you, to avoid risks.
Mobile Networks: You are supposed to get good coverage for BSNL and Jio.
If you are taking Vodafone sim with you , it does not get good connectivity throughout the trek. So it will be better to take any other additional sim-card.
Packaging For Tadiandamol Trek:
• Basic First Aid kit.
• Cap/ Scarf/ Bandana & Sunglasses
• Any Identity Card proof.
• Sunscreen .
• Water (Minimum two litres).
• Lemon and salt any other Powder/Drink
• High-calorie snacks.
• Easily Dryable T-shirts.
• Plastic sheet – wrap electronic devices (during monsoons).
For more articles visit this website