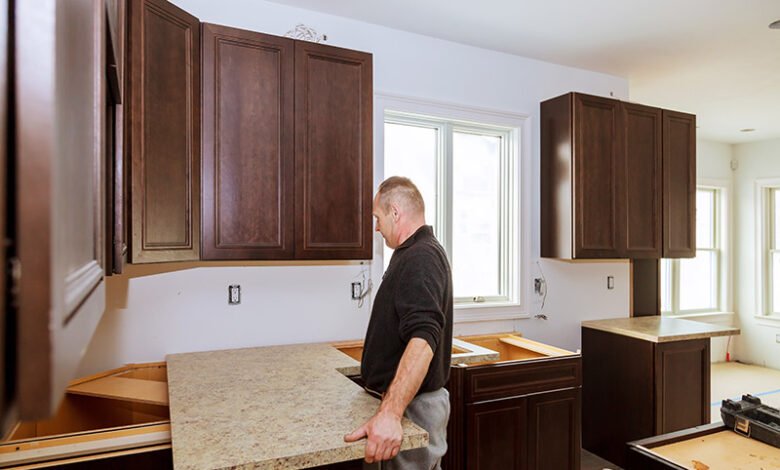 Countertops installation is a standard option for homeowners seeking affordable kitchen and bathroom remodeling.
The process is more of a construction, so you should expect preparation, measurements, dust, noise, and a slight change to your itinerary.
You should keep children and pets away, cover openings, and schedule a professional to care for other affected faucets. Here's an overview of six things to know when installing countertops:
1. Prepare for the Installation Day
Countertop installation may seem simple but is a well-coordinated event that takes several hours, depending on your needs. You should be adequately prepared for the installation day.
If you plan to be home, take the time to learn what's expected and involved in the process. Preparing for installation day allows the hired team to work smoothly and finish the job on time.
As a construction process, countertop installation can cause disruptions to your daily schedule.
Get ready for the noise, movement, dust, and inconveniences. The installation will take several hours if you need a backsplash and new cabinets together with the countertop.
You can prepare for the installation day in various ways, including creating obstruction-free pathways to give the installers easy access to the room.
Cover the vents and doorways using plastic sheeting to minimize dust. You should also discuss preparation requirements with different installers.
2. Hire an Experienced Professional
Countertop installation involves comparing unique options, and measurements, cutting the right slab dimension, taking down existing structures, and more.
You should work with an experienced countertop installer to handle the job. However, countertop installers aren't necessarily experts in cabinets and electrical wiring.
If your new installation affects electric and gas infrastructure, you might need to hire different professionals for the same project.
Get ahold of your electrician or plumber, so the new installation doesn't compromise the functionality of the existing system. Some countertops involve a backsplash, which affects the wall structure.
You can discuss what's involved in the installation to get the right professionals for every system affected by the new countertop. Determine what else is impacted by the change, then find the right professionals to work as a team and ensure the best outcome.
3. Determine the Scope of Service
The scope of service merely refers to what's involved in installing your new cabinets. Every countertop installation is unique and involves different services.
Some clients need to take down existing countertops and replace them with new ones. Others are installed on new buildings or kitchens.
The type of countertop, design, and space also impact the scope of work involved. Understanding what's required to achieve your dream is vital in planning.
Most countertops are installed after the flooring, cabinets, and appliances on new buildings or remodeling jobs. Often, cabinetry is installed before the countertop measurements and fabrications are made.
Other homeowners also need unique sinks, faucets, soap pumps, and cooktops. You should determine what's involved, the professionals required, and how long it'll take. Understanding the scope of service can help you finalize the budget.
4. Discern Countertops Merits/Demerits
Installing a new countertop allows you to incorporate unique styles. Whether your countertop goes in the kitchen or bathroom, you must choose the stone/material, style, and color.
The chosen countertop impacts various aspects, including longevity, aesthetics, maintenance, and usability. Granite, marble, and quartz are the most recommended options. Each countertop has unique edges and shortcomings when compared to other choices.
Learning the different advantages and disadvantages can help you find the best countertop for your needs.
You don't need the most expensive countertop, but you should invest in a practical, functional, and aesthetic option for your space.
Focus on the cost, visual appeal, installation requirements, longevity, usage, and maintenance. The best countertop is one that works for your space and needs. You don't need trendy installations if they're impractical.
5. Guarantees, Cleanup, and Maintenance
Your new countertop may be usable immediately if you purchase a sealer. Otherwise, you'll need to give it some time, usually a day, before you can start using the countertop.
Most reputable countertop installation companies will handle the tear-down and post-installation cleanup to leave your space usable.
The best installers will also take proactive measures to minimize the dust and mess of installing a new cabinet.
Countertop installation isn't enough to protect your new surfaces from future elements. You should discuss the maintenance requirements to learn how to take the best care of your countertops.
Leading installers provide warranties for their stones and surfaces and labor guarantees. The installer is liable for delivering your needs. If the outcome doesn't match the agreement, the installer is held responsible for necessary improvements to meet.
Expert Kitchen and Bathroom Remodeling
New cabinets can be a budget-friendly choice if you're planning a kitchen and bathroom remodel. However, not all new countertops are desirable.
Homeowners should focus on finding the best solution for their needs and working with experienced installers to fulfill their visions.
Involving a reputable kitchen and bathroom remodeling company is the best way to secure desired results. Make sure you choose reachable local companies.