Health
4 Delicious and Healthy Snacks For Weight Loss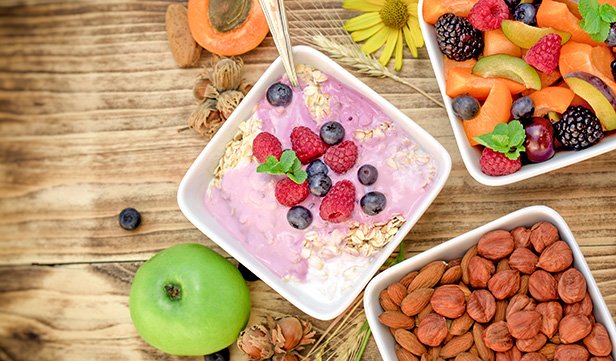 Are you trying to lose weight, but you just can't find the time for eating healthy and exercise?
There's nothing easy about losing weight, but it's made all the more difficult when you've got a busy schedule that you have to attend to. Whether it's your job, your family, or a combination of both, we understand that it can be hard to find healthy food when you've got no time to cook.
In this post, we're going to try and help you out by showing you some healthy snacks for weight loss. Try these delicious snacks instead of the salty, fatty, and generally unhealthy ones and you'll start feeling better and dropping pounds.
1. Nuts
Mixed nuts are a delicious and filling snack that you can keep with you throughout the day. Nuts are linked to a reduction in risk for heart disease and might help prevent cancers, depression, and some other illnesses.
They provide a great balance of healthy fats, protein, and fiber. You should eat them in moderation because they're high in fat, but they're perfect for a snack between meals.
2. Yogurt, Granola, Berries
If you're looking for something quick to eat for breakfast, or as a small dessert after lunch, a bowl or takeaway container of yogurt, granola, and mixed berries is a great choice. Yogurt is a great antioxidant, you can get delicious and healthy granola (or make your own), and berries are full of antioxidants, they're high in fiber, and have loads of other vitamins.
There are loads of great granola recipes on the internet. One great one is the My New Roots chunky chocolate granola, which takes no more than 20 minutes to make and is full of healthy stuff, not to mention tasty. Mixed with yogurt and berries, you're looking at the perfect healthy snack.
3. Health Munchies
Chips are most people's go-to snack when they're running around, but they're incredibly unhealthy. If you just want something to crunch on, there are a lot of delicious and healthy chips out there, you just have to look in the right places.
For those trying out a keto diet, go for the Genius Gourmet chips, which come in 4 tasty flavors. Keto makes it particularly difficult to find healthy and delicious snacks. Even most fruits aren't good for the keto diet.
People often wonder, "are grapes keto?", "are apples keto?", "is mango keto?". The answer is no, but now you've got an excuse to eat keto chips.
4. Cucumber and Hummus
If you want something substantial that doesn't take a toll on your waistline, then go buy yourself a cucumber and a tub of hummus. It's remarkable how great cucumber is for filling you up and when combined with delicious flavored hummus, it's one of the tastier snacks out there.
The great part of this one is that you can drop into any grocery store while you're running around and pick up these ingredients for a few dollars. Cucumber has anti-cancer properties and hummus is made from chickpeas, oil, and garlic, which are great for heart health and for reducing inflammation.
Choosing Your Healthy Snacks for Weight Loss
These are just a few quick and healthy snacks for weight loss that you can try out. Once you find a few foods that you enjoy eating, you can integrate them into your daily schedule and start improving your overall health. You can never be too busy for healthy eating, but it helps when you can go to something delicious that takes no time to make.
If you enjoyed this post, come back again for more on health and fitness.