Travel
Top 10 Things To Do In Rishikesh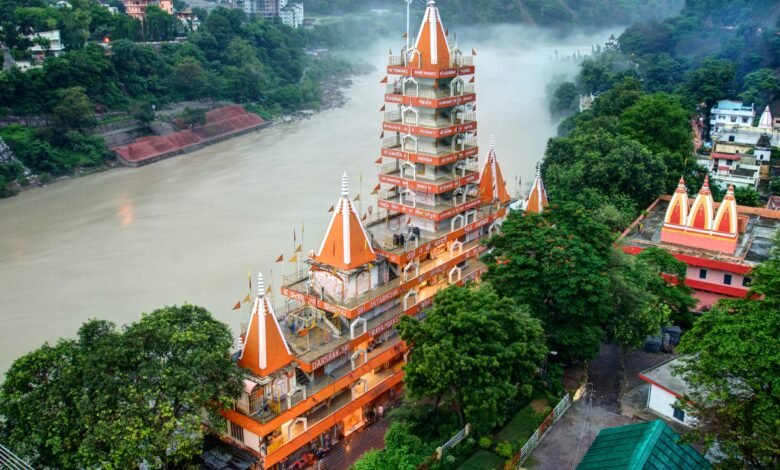 The holy place Rishikesh, where Ganga flows holding its head high. Situated in the foothills of the Himalayas, it offers a variety of thrilling activities for adventure lovers, holy places for devotees, ashrams, and breathtaking spots for nature lovers. From river rafting to enthralling mountain climbing, Beatles ashram to Lakshman Jhula, and many more, you will never get disappointed in this venturesome place.
Also, Do some yoga in the yoga capital of India amidst the serene setting of hilly tops and snow-capped peaks. Nature will eventually soothe your soul. The enchanting sound prayers and bells of temples will calm down the restless mind. Let's embark on a journey to unleash our inner souls in Rishikesh. Pack your bags and plan your vacation to experience the following activities for every kind of traveler.
Here are our 10 most popular things to do in Rishikesh:
1. Camping
Experience an offbeat camp stay at the holy land of the Ganges riverbank under the gleaming stars of Rishikesh. Surrounded by Eden-green meadows, unending jewel blue sky, and murmuring winds will make you feel like living in paradise.
You can also plan your camping after a valorous river rafting to relax all your striving muscles. The best part of camping is you will meet like-minded travelers, get to share stories, with some good food near a cozy bonfire.
2. River Rafting
Soak yourself into the daring currents of river rafting in Rishikesh. The high currents and rapids of the Ganga river are extremely thrilling to rush down your adrenaline. Kaudiyala is the longest point in river rafting at Rishikesh. Only professional rafters can cross this point. You can do 16 km Shivpuri rafting, 24 km from the marine drive, or 9 km from Brahmapuri. The easiest track, mainly used for beginners, is from Brahmpuri to Rishikesh. Rafting in Rishikesh session is a perfect retreat for friends & family who are seeking out a vacation. The best season to experience the white water rafting is from post-monsoons, i.e; mid-September to May. To see crystal clear water of Ganga river, the most suitable time is from November to March.
3. Flying Fox
Rishikesh hosts Asia's longest Zipline tour. It is an adventure sport where the participant goes down through a Shivpuri valley attached to a chord. This is a one-kilometer stretch where you will find yourself in a state of enthusiasm.
This sport can be performed in single, couple, and trio.
4. Trekking
Walk-in this astounding city and explore it from a different perspective. Witness the sky punching mountains through the zigzag trails in between the lush green meadows. It is one of the easiest adventure activities in Rishikesh. You can come across various alluring natural attractions while walking in the verdure. The trek will start from Chandrashila and Panch Kedar, the most popular ones, and get back to the city after a loop.
5. Paragliding
Fly over to experience the bird's eye view of this holy town. Paragliding in Rishikesh is a bit different from others. You can glide in the unending sky with the help of a motorized fan. You can get to see the mighty Himalayas and lush green meadows from a bird-eye view while feeling the whispering wind in your ears. Fly at a height of 3500ft-6500ft in the gem blue sky and conquer your fear with extremely professional pilots with all the safety measures.
6. Mountain Bike Riding
Cycling through the high and low cliffs of Rishikesh. This enthralling activity will make your visit to Rishikesh an unforgettable experience. You will get to see this mesmerizing place from a different perspective. You can easily contact any adventure club and register a suitable package for you to do this activity. One can perform this solo or in a group.
7. Hot Air Ballooning
For all the adventure geeks, there is a big thing to experience in Rishikesh and that is Hot Air Ballooning. The kind of thrill you will get to experience is beyond words. The air balloon is lifted with the help of a light aircraft to attain the suitable heights to fly. Within a few minutes, you will be up in the soaring sky witnessing the adieu sunset far away from the hustle and bustle of terrestrial life.
8. Bungee Jumping
If you want to experience Bungee Jumping then you got to experience it in Rishikesh. Feel your heart beating rapidly, adrenaline rushing down your veins, and your body giving you goosebumps. Witness the feeling of letting your fear go out and feel completely free in the hands of nature. You will never want to miss this lifetime experience when you are in Rishikesh. Mohan Chatti is one of the oldest Bungee Jumping spots in Rishikesh. The jump is from 83 meters, the highest in India. All the adventure freaks will get a dare to jump certificate on their successful completion of Bungee Jumping. Here's how you can book your bungee jump in Rishikesh.
9. Visit the famous Laxman Jhula
Spend a beautiful evening in the calming breeze above the holy Ganga river. The jhula is a connection between two important villages in Rishikesh. It links the Tapovan village in Tehri Garhwal and Jonk village in Pauri Garhwal which is associated with Hindu mythology.
10. Visit The Beatles Ashram
It is the most famous ashram in Rishikesh, Uttarakhand. The place received its recognition after the world-famous band Beatles came to stay there in 1986. The Dome-shaped construction, graffiti works, and the beautiful picture of the members of the Beatles band painted in one of the interior walls of Ved Bhavan are the major tourist attractions of the place. Experience tranquility by indulging yourself in meditation and yoga.
Now you know a lot to make your Rishikesh trip adventurous and fun. So catch with your buddies and figure out a plan soon. Enjoy your stay in Rishikesh and the sublime beauty of this place will make you come back, again and again.
Remember to follow all the Covid-19 protocols before traveling to Rishikesh. Wear your mask and stay safe dear travelers!
For more articles visit this website