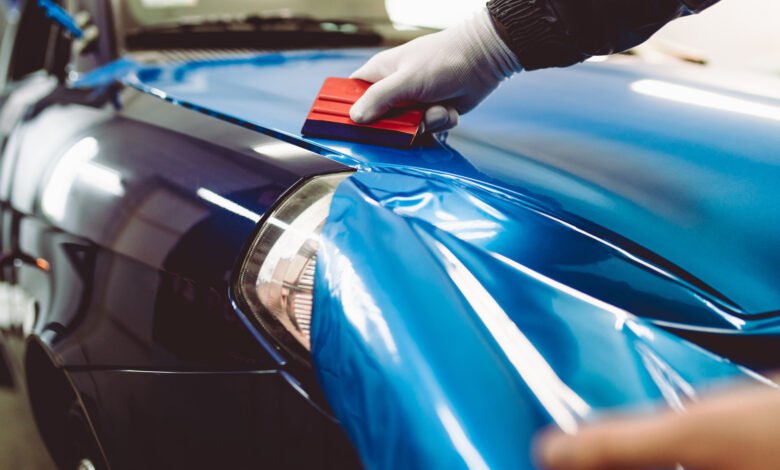 Have you ever seen a car with a huge advertisement on it? Well, that is most likely an automotive wrap used to generate up to 70,000 impressions daily.
Along with advertising benefits, car wraps have many different advantages that a lot of people don't know about.
Wraps can be for complete customization or they can even help protect your car's original paint.
If you're interested in wrapping a car, keep reading to learn about the awesome reasons to do it!
1. Customization
The customization options are almost endless when it comes to automotive wraps. They can be used for promotional purposes or if you simply want a new look for your vehicle.
Either way, you can meet with your contractor to discuss a design and ideas. Both of you will be able to come up with a realistic plan for your vehicle.
Once a decision has been made, the shop will walk you through the car wrap process and address any questions you may have.
2. Protection
Paint protection is hard to achieve when you're driving your vehicle daily. Potential damage can happen at any given time due to the elements of the road.
A car wrap is usually made from durable vinyl that acts as a shield to protect your car's paint. It's commonly around 3.5 millimeters thick, which is what helps preserve your car's exterior. A vehicle wrap battles:
Scratches
Scuffs
Fading
Tree Sap
Paint Chips
If you're wanting the protection without a new color or design, they also offer clear paint protection wraps. If you're located in the Dallas area, visit Supreme Wraps Dallas for a consultation.
3. Resale Value
Resale value is a huge thing to consider when you purchase a vehicle. Eventually, you may need to sell your current one, and getting the best resale price is optimal.
A wrap can help you maintain the original paint color by protecting it from the elements. This also allows the buyer the option to revert to the original paint job if they do not like the wrap that's currently installed.
This makes selling your vehicle easier overall and helps the value remain at or above market.
4. Maintenance
Vehicle paint maintenance is usually tedious and time-consuming. Always washing and waxing to upkeep your paint is reason enough to invest in a car wrap.
Once you have a wrap installed, you realize that your car maintenance is way more tolerable. That's because a wrap doesn't need much care in order to look good.
Simply washing your wrap with soap and water can make it look brand new. There's no longer any need for waxing since it's made from vinyl.
5. Cost
If your vehicle's paint is fading or damaged, you've most likely considered paying for a new paint job. On average, a standard paint job can reach upwards of $10,000 depending on color, quality, and location. Expect to pay even more if you have any special requests, colors, or designs you want.
Car wraps have the same effect as a new paint job but are drastically lower in cost. Depending on color or design, you shouldn't expect to spend more than $3,000.
6. Removal
Once you give your vehicle a new paint job, you're stuck with it unless you want to pay to have it repainted. Given the projected cost, this usually isn't an option for most people.
However, installing a car wrap gives you the option of one day removing it. This will allow you to change the wrap design or revert back to the car's original paint color.
Removal will not damage the paint underneath and can be done on your own.
7. Installation Time
When you take your car in to get a new paint job, you should expect to be without that vehicle for about 2 weeks, sometimes longer.
The shop will need to prepare the car for paint by sanding, taping, and removing rust if needed. Then they will prime the body and need time for that to dry. Finally, they can begin the painting process, which can take many consecutive days to complete.
A vinyl wrap installation is much more simple overall. Mainly, the car needs to be completely clean before the wrap is installed. Then it is carefully applied to each panel.
This process should only take 1 to 3 days, depending on car size.
8. Promotion
If you run a business, then it's no secret that promotion is one of the keys to being successful. Getting eyes on your business drives in customers and helps with sales overall.
Now, what's better than a traveling promotion that thousands of people will see each day? Customize your vehicle to have a business logo and phone number so that people are visually impacted. You can even take it a step further by using eye-catching colors and designs.
9. Quality
Depending on the painter, a new paint job may not always be of the best quality. Many factors, like the type of paint, can make a recent paint job deteriorate quickly.
Since all wraps are made of the same material, you can expect the same result almost every time. The quality of vinyl is durable, strong, and long-lasting and this then allows your vehicle to maintain a superior look and feel.
The Hottest Trend Today, Wrapping a Car!
All of these benefits are reason enough for wrapping a car and you won't be disappointed once it's done.
Hopefully, you have a reputable shop near you so you can reap these benefits as soon as possible.
If you're interested in more automotive articles and news, visit our site today!