Tech
Software And Systems For Valet Operations: Need Of The Hour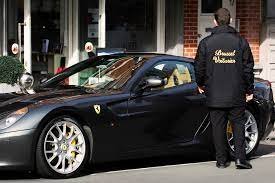 Software and systems for valet operations are designed to make valet parking a unique experience altogether. If you own a self-driving car, then automated valet becomes all the more useful. With automated valet parking, if you are a park operator then you can offer customers an all-new experience altogether with new services, time-saving as well as added value.
With software and systems for valet operations, there are some added benefits that you can serve your customers are as follows:
Automated Electrical Vehicle Charging: With a system for valet operations, you can automate the charging of electric vehicles on demand, and the charged vehicle can then be moved from the particular charging spot to another spot thereby making room for other vehicles.
Automated Car-Wash: If you own software for your valet operations you can also offer your customers additional automated car wash services.
Drop-Off and Pick-Up: With automated valet software, car drop-off and pick-up facilities are done quickly.
Software Update: With automated valet operations you can update your software quite fast whenever it requires any software update.
Operational Efficiency: With automated valet parking software your productivity and efficiency as a valet operator increase a lot thereby enhancing your operational efficiency.
Technology Behind Automated Valet System
The main technology of software systems of automated valet parking is to remotely plan as well as control the movement of multiple vehicles with a central control platform or a hub that shares the mission route and specifications for vehicles.
Now the mission set by the central control hub might depend upon the need for the type of services as well as the type of vehicle. Each vehicle has its own mission plan and accordingly it will be move.
CVPS is one of the best valet parking software which will not only help a parking operator to increase their revenue, reduce labor and damage claims but also provide customers with the best quality services.
Some of the benefits of using CVPS valet parking software are:
Enhanced revenue to the parking operator and increased customer satisfaction thereby minimizing labor cost and liability for damage claims.
Records each and every step of the valet parking software from the arrival of the guest to departure thereby maintaining a good record.
Parking charges are directly posted to the guest folios through integrations by every popular hotel management system.
Credit card transactions are easily processed through 5 major gateways with P2PE and EMV solutions.
Generate productivity reports thereby enabling an operator to efficiently manage their valet services.
Widely integrates various casino and hotel management systems as well as major PARCS.
Cost-efficient as well as effective.
Summing Up
Automated Valet parking management software is a revolution to the valet parking system thereby helping to enhance customer satisfaction as well as help the operator to park some extra revenue. 
For more articles visit this website