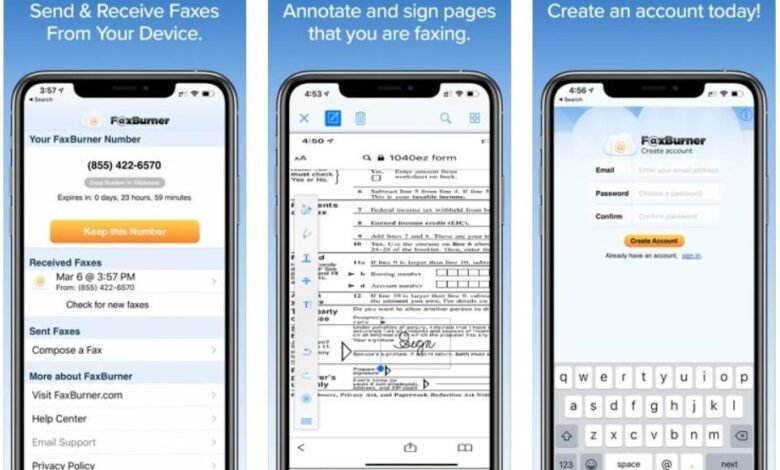 Nowadays when technology is so advanced that everything is done by machines. By continuing the topic of advanced machines, we will tell you about fax machines what are those, what is the basic use of fax machines, and what is the best fax applications for iPhone.
Fax machines are still used in many organizations, they used them regularly. Some companies only use these machine because their systems are made and suites them.
You also have known that Fax machines are not printers, they only have some similar features between both of them.
Basically, Fax machines are used to print and scan the picture or any document with every line accuracy.
In the old era, we used to control fax machines physically but nowadays we used them wirelessly.
Application and software have come to the very latest stage. Now with the help of this updated software, you can send and receive files (fax) with help of iPhones and iPads. So on falmesoftrend we will tell you the best fax application for iPhone.
iPhone and Android App development
Search no further and pick the best mobile Seattle app developers from the below list for your business's Android app development or iPhone app development project in Emerald City.
What are the best fax application for iphone?
Here are the best fax applications for iPhone:
eFax
Fax
Genius Fax
Fax Burner
Fax.plus
eFax
eFax is a very famous app among Apple users, this app is available on both iPhone and iPad. This app facilitates you both upload and receives faxes. This application has a very easy-to-learn user interface.
eFax is not using your mobile storage, it saves all data on the cloud of their company.
You can see and share your files any time or anywhere.
Fax
As you can guess Fax is an application specially designed for Faxing, for their iOS users. Fax is a very old application on the app store. This application offers you a variety of services like Fax into PDF documents, scans the number, or Fax documents.
It gives you a variety of international Fax numbers. It also didn't use your mobile storage only stores data in online cloud storage like Google Drive, Dropbox, iCloud, and many more.
Genius Fax
Genius Fax is a very smart application, as it is showing you by its name. This application has a very unique function. It saves all the recent Fax numbers in its interface, so you can Fax again just by clicking on the number later.
It is a very unique feature. Genius Fax also allows you to send a fax or receive from more than 100 countries.
Fax Burner
Very old app in the app store and also very reliable. This application allows you an ad-free feature, no kind of ads in the application. You can use its interface without any hurdle.
It gives you fax numbers from more than 80 countries, you can scan photos, and obviously send Faxes from anywhere. A more important feature which is only given by them it gives you a feature to sign any document in the application.
Fax.plus
This application is mostly used by iPhone users. It is used in every company, Educations sector, and office.
Fax.plus the interface is not easy to use when it was released latest, but they have come back with their top-notch quality software. That's why a layman or a clerk can use it without hesitation.
It also gives you the same features as other applications do. But its interface is very easy to use. It also has cloud storage, this app doesn't use mobile storage. It gives you three-pack security to your data which is on the cloud.
Fax.plus also has a signing feature, as you can sign on any of your documents.