Business
How To Start A Junkyard Business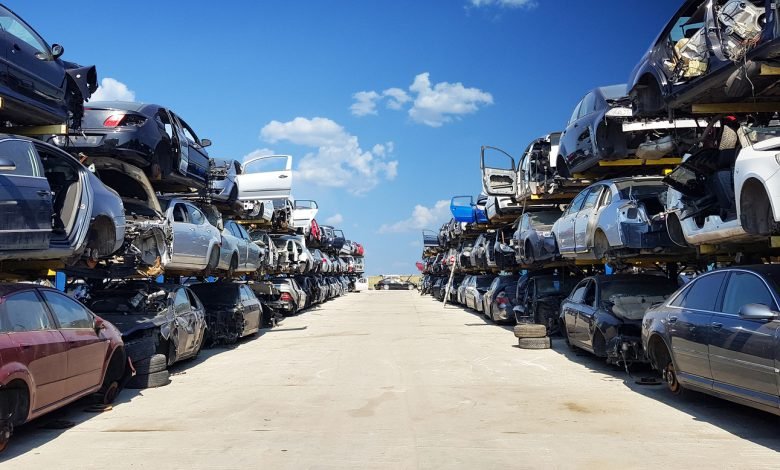 A junkyard, also known as a scrapyard or salvage business, is a place where wrecked automobiles are brought for usable parts to sell or recycle. The scrapes are mostly recycled as per the buyer's requirement. The junkyard owners collect scarp and other raw materials from decommissioned vehicles, furniture, demolished homes and junked appliances.
If someone is dealing with junk cars, they usually get parts from auto companies or individuals. They offer services either for short-term storage or complete disposal of the vehicles. A lot of the time vehicles are donated, which—depending on the state you're operating in—might be tricky as far as taxes go. In instances like this, it would be in your best interest to have a tax professional handle your quarterly reports. However, a tax calculator is a great tool to have as well. Ultimately runing a salvage yard can be highly rewarding but if you don't have the right resources at your disposal, generating a profit might be harder than you expected.
Are you wondering how to start a junkyard business? The following guide will give a step-by-step guide to set up your business and make money.
6 Steps to Start a Successful Junkyard Business
If you have a clear knowledge of the automobile industry and car parts, you can establish a successful junkyard business with these steps.
Step 1. Make a business plan
When you decide to open a junkyard, before rushing out to book a plot, you need to make a proper business plan and consider important factors. A clear plan will map out the benefits and challenges in the business.
You can start with whether you want a small land or a larger one with an extra upfront cost. Once you get the land, you need to invest in a few things like fencing, equipment, surveillance system, store inventory, office setup etc.
However, the largest investment will be in the salvaging process. It includes purchasing the equipment, materials to process it, car crusher, and processing labor. In addition, you must keep a part of your budget aside for insurance, administrative tasks, and marketing expenses to run the business.
Step 2. Establish a legal entity
Next, you need to name your business. You should come up with a catchy name that will explain what the junkyard is about.
Once you get a proper name for the business, you need to register the business legally and get all the necessary permits and licenses. You can contact the local administrating office to know the procedure and start the paperwork.
Establishing the legal entity for your business as Sole Proprietorship, Corporation or LLC is very important. However, it's wise to register the business as LLC or C-corp so that you won't hold personally responsible for any liability incurred by your business.
Step 3. Register business for tax
The most important step to start a junkyard business is to register it for local and federal taxes. Depending on your location and business structure, you need to apply for an Employer Identification Number (EIN) to register the business for tax.
Registering the business will give you legal and tax benefits along with personal liability protection.
Step 4. Apply for a business account and credit card
After all the paperwork is done, it's time to apply for a separate business bank account and credit card. So, you can keep the funds related to the junkyard separated from the personal expenses. Otherwise, the bank may take possession of your personal assets like a house, car or other valuable items if the business is sued.
Therefore, it's important to use a different bank account for business to protect personal assets. Additionally, it will help you during taxation and other financing works.
Moreover, getting a business credit card helps to build your credit history. As a result, you can raise funds and invest money later as the business progresses.
Step 5. Purchase equipment
If a salvage yard doesn't have the necessary equipment, you won't be called a professional. People may come to your yard to buy car parts or sell their wrecked vehicles. So, you must be equipped with all the tools.
Some necessary tools for a junkyard are a standard toolbox, wire stripper, balers, fork truck, extensions, sockets, engine-checking tool, battery power, and many more. People nowadays are well aware of how junkyard operates. If someone is interested in selling cars, you need to offer a better service and discount.
Sometimes, people may want recycling old cars if they have a popular model. Recycling involves body parts, metal scraps, interior parts, etc., to be remodeled in a new way so you can sell them at a good price. In such cases, many junkyards offer to recycle old or wrecked car models with free towing.
So, if your junkyard also has that facility, people will visit you with the car details. You need to examine the car's condition with equipment, give them an offer, and once they accept it, you can pick the car and do the work.
Step 6. Prepare marketing strategy and promote business
To become the most popular junkyard owner, you need a marketing strategy to stand out among the competitors. To promote the business, place a large signboard in a commercial or crowded area so everyone can see that.
Additionally, launch your website with updated information, list the business on online platforms, create networks with different communities, advertise on social media, etc. A legitimate site or Facebook business profile can help you reach more audiences.
Not to mention, you must conduct market research to identify your potential customers. Get knowledge about what type of services they want and whether you're able to meet their requirements.
However, it may take some time and effort to set the junkyard business. Make sure you have all the legal forms to prevent any issues in the future. Most importantly, you must learn about the auto industry while planning for a junkyard. A clear insight will help to step into this business and make a profit.
For more valuable information visit this website