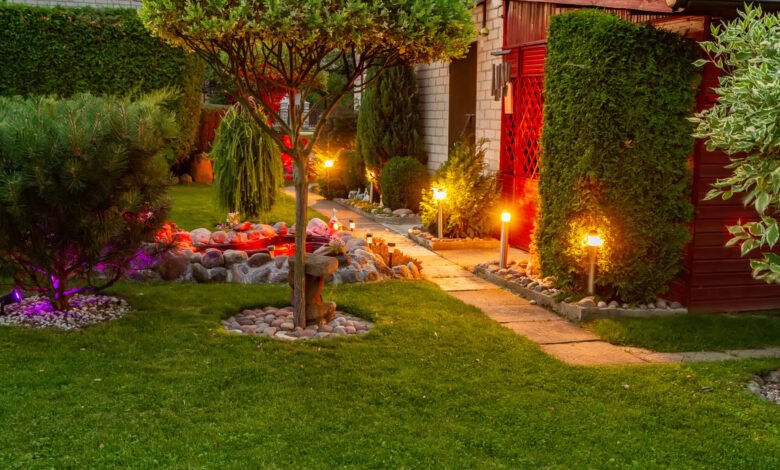 Are you thinking about giving your yard a makeover? Do you wish you could maintain a beautiful yard all year round, no matter the weather?
If your answer to either of those questions is "yes," don't worry. Keeping your yard beautiful all year round is easier than you might think!
There are plenty of plants, decorations, and landscaping practices that can keep your yard and garden sustainable. Even if you are brand-new to landscaping and gardening, you can still find the perfect system for your lawn.
Keep reading, and we'll give you all the landscaping tips you might need to keep your lawn looking great all year round.
Every Landscaped Yard Is Different
It is up to you to design the perfect landscaped backyard or front lawn. Every homeowner is different, and everyone's lawn needs to be different to suit their individual needs.
Your landscaped yard should be designed with your expertise and schedule in mind. If you are passionate about gardening, you can focus your attention on planting a unique arrangement of flowers or fruits and vegetables, or both.
If you work full time and take care of kids, you may want to design a more low-maintenance garden. It is important to keep your expectations realistic so that your landscaped yard can thrive.
You should also design your lawn based on your individual values and aesthetic sensibilities.
For example, if environmental sustainability is one of your priorities, you may want to plant an organic lawn.
If you like the rustic, wild look, you can choose grasses and plants that will grow big and tall and threaten to engulf your house. If you like lawns that are highly sculpted and meticulously cared-for, you can design your lawn with that in mind.
Your lawn and garden are yours for a reason. Don't compare your landscaping to that of your neighbors, your friends, or anyone else.
Give Your Garden a Makeover
When you're revamping your lawn, you might as well give your garden a makeover while you're at it. In most areas of the United States, the best time to plant a new garden is in the spring after your last frost.
If you want, your garden can be the centerpiece of your lawn. You can primarily grow flowers, or you can grow fruits and vegetables. It all depends on whether you want your garden to be purely aesthetic, or functional too.
Regardless of what purpose you want your garden to serve, giving your garden a makeover can completely transform your lawn.
Let's break down some of the easy ways that you can give your garden a makeover this year.
Plant Year-Round Greenery
If you want your garden to stay green and fresh all year round, consider planting evergreen trees and shrubs. These pieces won't turn brown when it snows or lose their leaves in the fall.
Planting evergreen trees and shrubs, such as the American Arborvitae, will keep your garden colorful all year round. Plus, there are evergreen trees and shrubs that are indigenous to almost every region in the U.S.
Year-round greenery requires minimal maintenance and will make great statement pieces in your garden. It is always a good idea to design your garden around some larger trees or shrubs.
Plant New Grasses
There are many types of grass that will keep their color all year round. When you're giving your garden a makeover this year, consider planting some resilient and colorful grasses.
Grasses require little maintenance compared to some other plants. They only need to be seeded, watered, and cut properly.
The right type of grass can completely transform your lawn and garden. Think of your grass as the canvas that the rest of your plants will sit on top of.
You can't make a beautiful painting without the right canvas, and you can't keep your lawn beautiful without the right grass.
Plant For Your Region
When you're designing your new garden, keep your region's climate and indigenous plants in mind. You can often plant things that don't naturally grow in your area, but it will always be more difficult to maintain them.
Plus, growing indigenous plants can be beneficial to the wildlife and food chain of your area.
Trees and flowers that naturally occur in your region are more likely to successfully pollinate and grow on their own. This can be great for local plants, insects, and even small animals such as squirrels.
If you live in a more rural area, this is especially important. Metropolitan areas are already fairly disrupted as far as wildlife goes. If you live out in the country, you can have a real impact on your local ecosystem.
Maintaining a Beautiful Garden
So, you've completed your garden makeover. What do you do next? Maintaining your garden is even more important than planting it in the first place.
That is why it is vital that you plant a garden that you can maintain. If you have the means, you can also always hire outside help to care for your lawn and garden for you.
Regardless of who is doing the maintenance, you must make sure that you take proper care of your lawn. If your lawn is not properly maintained, it is more likely to turn into an expensive problem later on.
Keep reading, and we'll break down a few tips for maintaining your new lawn.
Mow and Water Your Lawn the Right Way
The first step to keeping your lawn healthy all year round is cutting it properly. Your lawn is a lot like your hair; if it isn't trimmed regularly, it won't grow in a healthy way.
The way you trim your lawn is important too. You should make sure you cut your grass with sharp blades. You can get your lawn mower's blades sharpened by professionals.
According to the folks at RDS Lawn Care, you should sharpen your lawn mower's blades twice a year. Dull blades will rip your grass unevenly, which can lead to grass diseases.
You should also make sure that you water your grass, especially if you live in an area that is prone to droughts. Each variety of grass is different, and some need less water than others.
Regardless of what type of grass you have on your lawn, it is most important that you give it the individualized care that it deserves. Just like every lawn is different, every type of grass has different needs.
If lawn care is a little out of your depth, hiring a professional lawn care service can really help you out.
Address Weeds Immediately
Another vital part of lawn maintenance is taking care of weeds. You might think that a small patch of weeds isn't a big deal, but that could not be further from the truth.
As soon as you see any unwelcome visitors in your garden, you should pull them aggressively. With most weeds, if you give them an inch, they'll take a mile.
The same rule should apply to unwanted insect visitors too. Many insects are harmless and even welcome in your garden, but some can do serious damage.
Before you plant anything, you should do your research about what insects you may see, and how to handle them. You should also stay informed about what kinds of weeds are most likely to pop up in your area.
Feed Your Lawn 4 Times Per Year
As a general rule, you should feed your lawn four times a year, or once every season. Of course, depending on the climate you live in, you may not be able to do that. The closer you can come to following this rule, the better.
You must do your research and figure out which seeds and fertilizers are right for your lawn.
Remember, a healthy lawn means a healthy and beautiful garden. The better you take care of your lawn, the better your entire home will look. Feeding your lawn frequently throughout the year is the best way to make sure it stays healthy year-round.
Follow the Trends
If you need a little guidance for your landscaping makeover, you can always consult with landscaping trends. Of course, some of these trends may go out of style, but that's where your personal taste comes in.
As long as you implement these landscaping trends with a refined eye, you won't need to worry about your lawn becoming out of date.
Let's break down a few of the hottest landscaping trends right now.
Low Maintenance
If you don't have time to take care of an intricate lawn or garden, you're in luck! Low maintenance lawns are in this year.
Since the world was turned on its head by a pandemic, low-maintenance, lifestyle trends are hot in general. Everyone has realized how important it is to take care of themselves, and that includes making it easy to take care of their homes.
The most stylish lawns this year will look refined and beautiful, but not high maintenance. You don't need any intricate gardening tools, fancy turf, or huge sculptures.
All you need is a lawn that looks neat, tidy, and fun.
Sustainability
Environmental sustainability has been hot for years, and it keeps getting hotter. As we mentioned earlier, you can always get an organic lawn if you want to really commit to this cause.
However, there are lots of other ways to keep your lawn sustainable and healthy for the environment. For instance, low-water landscaping is one of the hottest lawn trends of 2021.
Since droughts have been more common in recent years than ever before, many homeowners have been unusually conscious of their water consumption.
This is certainly something you should keep in mind when designing your garden, especially if you live on the West Coast of the United States.
Quality Over Flashiness
Along with healthy, low-maintenance lawns comes a new appreciation for quality plants and wildlife. You don't need to curate a flashy lawn just to impress the neighbors anymore.
On the contrary, you may be more likely to attract sideways looks if your lawn looks too high-effort.
We are in an era of comfort and self-care. The most trendy lawns right now are cozy and natural yet elegant. While trends are fleeting, of course, you can rest assured that a lawn of this kind will never really go out of style.
Add Unnatural Elements
Once your garden and lawn are in great condition and you've mastered taking care of them, why not add a few man-made elements to your lawn? Fountains, sculptures, and beautiful fences all make great additions to a front lawn.
With man-made elements, less is often more. We've all seen a lawn where someone went overboard with unnatural decorations. We don't like to gossip, but it can certainly look a little tacky.
Your lawn and garden should always be the star of the show. After all, you've worked hard on them!
However, there is nothing wrong with accenting your lawn and garden with a few man-made decorations that match your personal style.
Keep a Beautiful Yard All Year Round
Keeping a beautiful yard all year round is much easier than you thought, isn't it? As long as you follow these tips, you can't go wrong.
Remember to keep up on lawn maintenance with a routine that is realistic for you. Taking care of your lawn should be fun and relaxing.
For more home care tips, check out the rest of our blog! We provide you with all the advice you need to keep your home looking beautiful, inside and out!