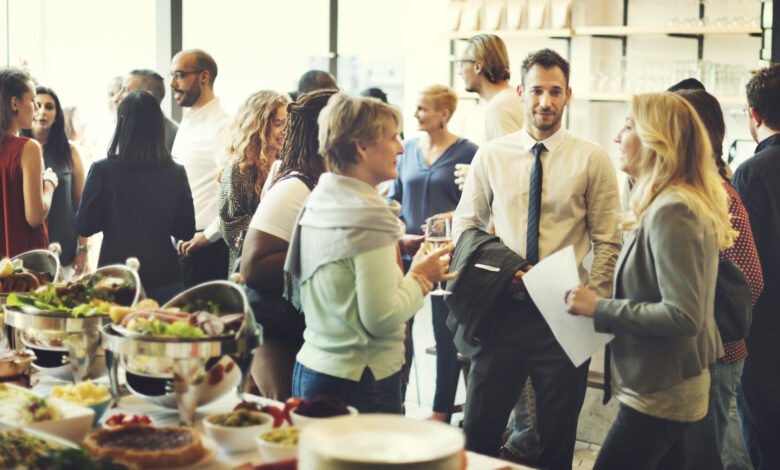 Did you know that eating with others can help everyone feel happier and more satisfied with life?
If you're running a business, then organizing regular corporate lunches is a great way to boost morale and impress business partners.
Do you want to learn how to plan a corporate lunch that's guaranteed to be a big success? Keep reading for 8 tips that will make all your corporate lunches memorable and productive.
1. Set the Tone for Your Business Lunch
The first step of planning a corporate lunch is to figure out what you'd like to accomplish. If you want to treat employees to a good time, then you can feel free to keep things casual so everyone can relax. If you're trying to impress potential clients or employees, then you might want to be more formal so you can maintain a professional appearance.
Any event that takes place outside of normal working hours should have an invitation beforehand. This will help your guests understand your tone, so they can dress accordingly and know the rules about plus-ones and other details.
2. Choose Your Location
Do you want to meet at a restaurant, bring food back to the office, or go to another location and hire catering? The location will have a big impact on the tone, so make sure it adds to the environment you're trying to create.
If you're not eating at a restaurant that has all of the supplies you'll need, then make sure all your bases are covered when it comes to utensils, plates, napkins, drinks, and more.
3. Make Sure Everyone Has Food to Enjoy
Not only do you have to be concerned about food allergies that can endanger others, but it's also courteous to consider people's lifestyles. If guests show up, and they don't have a substantial meal to enjoy with everyone else, then they'll feel left out and not want to participate in any future events you host. This is why it's a great idea to send out a request for everyone's dietary needs and preferences so you'll be able to feed everyone.
As a general rule of thumb, it's good to include meal options that are vegan, gluten-free, dairy-free, and nut-free. If you have a variety of foods to choose from that have all the ingredients clearly labeled, then guests can serve themselves.
4. Order Business Catering for Larger Parties
When you have a lot of people to feed, corporate catering is always the most affordable option. Caterers are happy to create a menu that will satisfy any crowd and help make the planning process as easy as possible for you. After you inform the catering company how many people are joining, they can prepare the perfect amount of food to keep your costs reasonable without skimping on portions.
5. Respect Everyone's Time
Since the business world can be hectic, it's important to value your guests' time and be punctual. This tip is crucial for business lunches that are more formal because you don't want to impose on anyone else's busy schedule. With professional lunch meetings, you'll have to straddle the line between rushing into business too fast and being too chatty to get work done.
If your business lunch has more of a fun, party vibe, then it's okay for the festivities to carry on later than expected.
6. Come Prepared With Conversation Starters
Whether you're meeting new people for the first time or you want to avoid awkward silences while waiting to eat, it's wise to come prepared with different topics that others will be excited to engage in. While it's good to be friendly and talk about anything, you should try to come up with questions that will encourage others to do a lot of talking. Being a strong listener is a skill that's often underestimated in the business world.
If you ever get stuck, a fun and relevant topic is food. In addition to asking them about how their meal is or what they're ordering, you can inquire about their all-time favorite dishes and if they've enjoyed international cuisines while traveling.
7. Mind Your Manners During Corporate Lunches
It should go without saying, but you have to be extra diligent about being polite during corporate events. This means don't talk with your mouth full, interrupt others, be messy, or do any other unflattering things. The best hosts are poised, relaxed, and attentive to their guests' comfort.
One simple trick that can help you navigate your business lunch with grace is to avoid ordering any foods that are messy to eat. Nobody wants to watch someone wrestle their spaghetti or get taco fillings all over the place.
8. Don't Forget About Dessert
While dessert isn't always necessary, it's nice to end your lunch on a sweet note. People associate desserts with special occasions, so your meal will be more memorable with this extra decadence.
Since lunch can be expensive enough, you don't have to order anything super fancy. For laid-back lunches with employees, you can bring a tray of brownies or set up a plate of cookies from your local bakery for everyone to pick at as they please. If you're at a smaller meeting in a restaurant, you can invite your guests to order dessert, but don't be too pushy if they're already full.
Now You Know How to Plan a Business Lunch
Hosting corporate lunches doesn't have to be stressful, as long as you give yourself enough time to plan. By following these tips, you'll be able to ensure that every guest has a wonderful time and you can preserve your company's stellar reputation.
Do you want to know other ways you can succeed in the business world? If so, click around our blog so you can access plenty more expert guides that will help you thrive.
For more articles visit this website