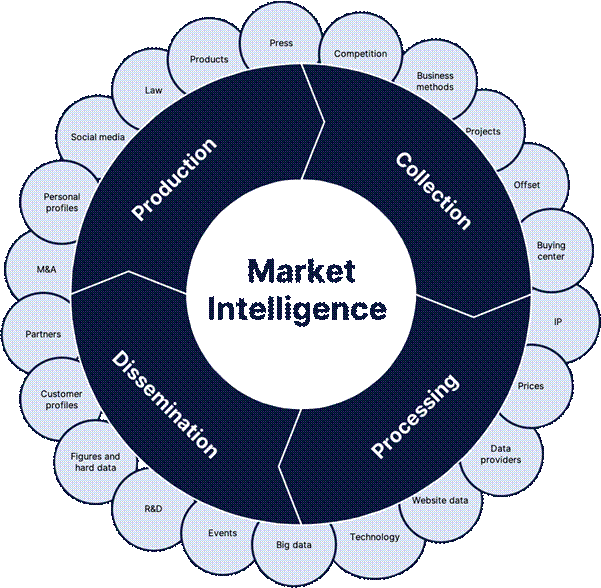 The Importance of Good Market Intelligence
One of the most important pieces of data that any company can have, market intelligence is crucial for understanding the ever-evolving and ever-changing market.
With solid, reliable market intelligence, a business gains many very important advantages. You'll be able to understand how your products or services will perform in the market against other, competing products.
It also allows you to keep up-to-date with your competitors and what they're up to. It reveals new market opportunities that you can exploit, and gives you a detailed analysis of your business's target audience and their needs and desires.
Simply put, reliable market intelligence can give any business powerful advantages that simply wouldn't be proper to do without.
How to Stay Ahead of the Competition — NetBase Quid
Fortunately, there exist dedicated companies out there that aim to provide businesses with the top-quality market intelligence that they need in order to thrive in today's markets.
Of these companies, NetBase Quid provides competitive analysis that forms the backbone of a comprehensive understanding of the market environment.
How NetBase Quid Works
NetBase Quid employs comprehensive strategies to build a comprehensive market portfolio for your company or business to follow and trust.
NetBase Quid will conduct a thorough and aggressive (figuratively speaking) analysis of your competitors and how they work — what they provide/produce, how they do it, their impact on the markets in which they're active, and the receptiveness of their target audiences.
Social Media — The Modern Market For the Modern Business
NetBase Quid provides its clients a real-time, bird's eye view of how a competing business is perceived, and how such a perception and reputation changes over time in response to relevant events like product reveals, product reception, and company news and events.
Social media, despite being a relatively recent invention, has become a tremendous source of influence in the modern world, and business is no exception to this change.
Much of the world's perception of itself — from world events to social issues to the likes and interests of the public at large — are broadcast, monitored, and influenced by social media platforms such as Facebook, Twitter, Instagram, TikTok, Snapchat, Reddit, Tumblr, and many others.
To this end, NetBase Quid will take to social media, employing intelligent strategies to monitor the activities of the competition and more intimate details of their relationship to their target audience.
This kind of market intelligence can be invaluable to companies who seek to gain insight into current and future market trends, take advantage of opportunities in the competitive scene, and further establish and grow your own brand image.
It can also give a company of business the ability to accurately monitor and gauge its own presence and reception on social media in order to safely and accurately establish a positive reputation and trust amongst its customer base and the world at large.
Other Tools and Services That Can Increase the Market Intelligence of your Business
Netbase Quid doesn't just offer its clientele social media analytics. It offers a vast host of tools, techniques, strategies, and approaches to help gather the data that your business will need to thrive in a fast-paced, information-dense market.
One such tool is a report called Voice of the Customer. In this report, your business or company can efficiently and quickly gather and analyze social media posts, Amazon review, survey data emails, customer care logs, and other sources of consumer interaction and outreach.
This kind of data speaks for itself in terms of the value that it can offer your business and the amount of market intelligence that is contained in such a report.
With this tool, you'll have a clear and direct means of understanding the voice, feelings, and perception of your audience and how they perceive your company and its products and services, as well as that of the competition.
With such knowledge, you can actively shape your standing as a business and clearly navigate the highly-competitive and information-oriented marketplaces of modern times, and thrive as any business ought to.
Conclusion
The value of quality market intelligence is a must in today's information-oriented marketplaces. Without it, you condemn your company or business to be oblivious to the competition around it and the voices and interests of your own consumer base.
With this in mind, companies like Netbase Quid aim to offer such companies and businesses intelligent, comprehensive, and thorough marketplace analytics that will allow your business to stay ahead of the competition.