Featured
What are the best Things to do in Destin on Vacation?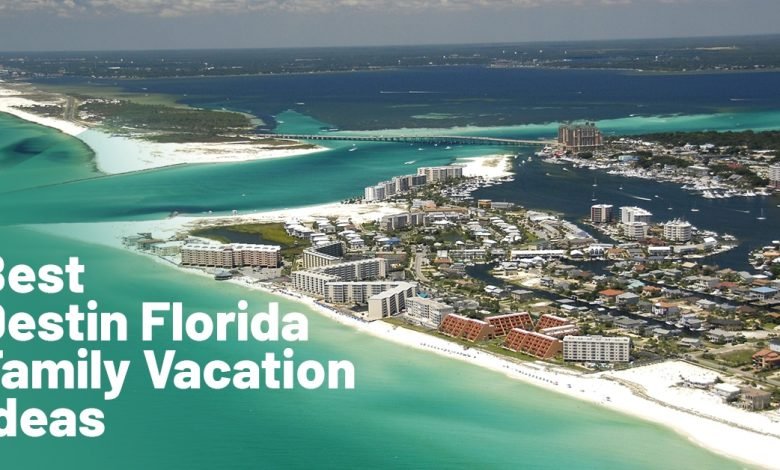 Best Things to do in Destin on Vacation! Destin, located on the Gulf Coast of Florida, sits between Fort Walton Beach and Pensacola in the west and Panama City in the east. Known as Florida's Emerald Coast, this area boasts dazzling beaches, plentiful sport fishing, and long stretches of untouched shoreline, setting it apart from many of the state's more commercialized beaches.
Visitors to Destin can enjoy various activities, including soaking up the sun, swimming, and relaxing on the beach. If you're up for exploring, neighboring towns like Fort Walton Beach and Pensacola are just a short drive away and offer exciting day trip options. Destin is an excellent choice for those looking for a peaceful and refreshing coastal getaway. So, read all the things to do in Destin on Vacation.
Discover Destin's Charm at the Harbor Boardwalk:
The Harbor Boardwalk is the vibrant center of Destin, still holding onto its fishing heritage. After renovations, it now features a range of shops, bars, restaurants, and charter fishing boats, making it a hub of activity and entertainment.
Stretching for about a quarter of a mile along the harbor front, the Boardwalk is perfect for an evening stroll, enjoying a refreshing drink, or simply taking in the stunning sunset views.
At the Harbor Boardwalk, something is always happening, ensuring visitors have things to see and do. So come and experience the lively atmosphere of Destin's Harbor Boardwalk for yourself!
Experience the Thrills of Rapids at Big Kahuna's Water & Adventure Park:
If you're searching for family-friendly activities in Destin, Big Kahuna's Water & Adventure Park is a must-visit destination. With an array of exciting rides like the Kowabunga Racer, Monkey River, and Cobra Twister, you're guaranteed to have a blast.
Get ready for an adventure by taking a lazy ride down one of the river rides or catching some waves on the Honolulu Half Pipe surf simulator. Plenty of gentle slides and pools are designed for younger children, ensuring that everyone can join in on the fun. So make unforgettable memories with your Family at Big Kahuna's Water & Adventure Park.
Soak Up the Sun at Henderson Beach State Park:
Henderson Beach State Park is a beautiful spot with vast sunny beaches, warm waters, and various amenities for sports and activities. Hiking trails wind through the white sandy dunes, offering opportunities to observe coastal plants and creatures.
The park features a playground for children, camping and RV facilities, picnic areas, and campfire circles. It is also wheelchair accessible and has several shaded pavilions with BBQ stations, providing a welcome respite from the scorching summer sun.
One of the city's most popular restaurants, known for emphasizing the three "F" words- Food, Fun, and Family- is above the park's greenery. So head over to Henderson Beach State Park for sun-soaked fun and unforgettable experiences.
Embark on a Sunset Tiki Boat Adventure:
Are you looking for a one-of-a-kind experience in Destin? Add a tiki boat cruise to Destin Florida things to do list on vacation. These boats are like cozy, floating bars where you can bring drinks and unwind while your captain takes you on a harbor tour.
Why not gather your friends and family for a private sunset cruise in the serene waters of Destin harbor? It's the perfect way to spend a warm summer evening relaxing and enjoying the breathtaking views.
Discover the Air Force Armament Museum:
Since its establishment in 1976, the Air Force Armament Museum has become a must-see destination. Visitors of all ages can explore a collection of vintage warplanes, including the famous SR-71 Blackbird, the fastest jet ever built.
With 29 planes on display, the museum offers a unique opportunity to step into the past and experience what it was like for pilots during WWII, the Korean Vietnam, and Gulf Wars. All of the aircraft have been preserved and restored to their original condition.
As one of the few museums in the world dedicated to Air Force Armament and its delivery platforms, the exhibits are filled with fascinating artifacts and memorabilia. Take your chance to explore this one-of-a-kind museum.
Experience the thrill of riding a banana boat:
Destin's emerald green waters are perfect for water-based activities, and there are plenty to choose from at the harbor. If you're looking for a fun and exciting way to explore the Gulf, why not try banana boating? These bright yellow inflatable boats are perfect for groups of 4-6 people and offer an exciting and unique way to experience the water.
Hold tight as you bounce and glide over the waves, feeling the wind in your hair and the sun on your skin. It's a wet and wild adventure that you will remember sometime soon.
Observe dolphins in their natural habitat on a dolphin-watching tour:
The Destin area is famous for its diverse wildlife, and one of the most famous creatures to observe is the bottlenose dolphin. Several local businesses offer excursions to witness these magnificent mammals in their natural environment, which is worth the trip.
For two decades, the Southern Star Cruise has been a go-to option for vacationers in Destin. Its glass-bottom boat offers a chance to observe different marine life along with the dolphins. The sunset cruise is an incredibly memorable experience for the whole family.
Experience the Thrill of Paddling in Okaloosa Island – A Must-Try Adventure:
When planning your trip to Destin, include a visit to Okaloosa Island in the list of things to do in Destin on vacation. This charming island offers a wide range of activities to keep you entertained. With its pristine sandy beaches, thrilling water sports, and exciting adventure parks, you'll be spoilt for choice.
For a unique experience, you can rent a kayak or paddleboard and venture out into the crystal clear waters. You can also sign up for a surfing lesson with a certified instructor and ride the waves. When you're ready to take a break from the beach, there are plenty of shops and restaurants to explore.
Okaloosa Island is a great place to spend the day or even a few days if you have the time. Okaloosa Island has something for everyone, whether looking for a relaxing getaway or an action-packed adventure.