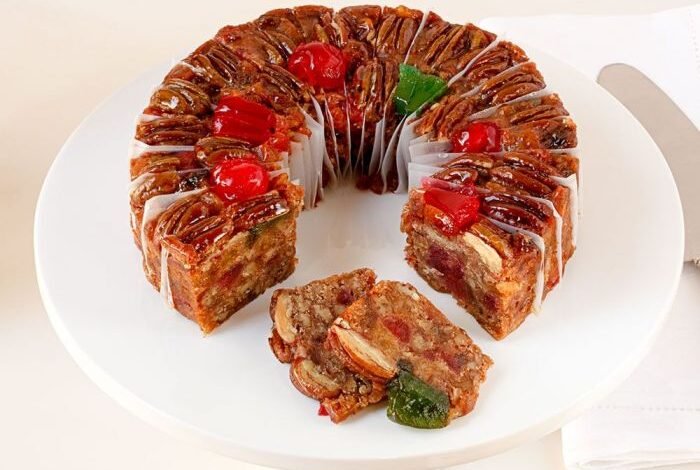 While Christmas is all about Santa, Christmas trees, and gifts, it's also about fruitcake. Filled with dried and candied dry fruits, nuts, and spices, these cakes celebrate the spirit of Christmas every year in the US along with other parts of the world. Traditionally the American fruitcakes have tons of nuts and dry fruits in them. The mail-box fruitcake came to existence in 1913, although the saying "nutty as a fruitcake" came to life around 1935.
Main ingredients of fruitcake
Like every country, the US too has an alcohol-free version of fruitcakes. But certain ingredients are common in all. A proper fruitcake is made with flour, eggs, walnuts, dates, and nuts. But the showmen here are the fruits. All the recipes of fruitcakes either have dried fruits or candied fruit as their star ingredient. Traditionally, the fruits were soaked in liquor, preferably, whiskey, brandy, or rum to prevent molds. This increased the shelf life of fruitcakes, at times to even years.
Things to consider before buying a fruitcake online
Buying fruitcakes online save time and money. The pre-delivery facilities of most online bakeries are delivering to all the 50 states of the US now. You can even get your favorite bakery to deliver your fruitcake to any part of the country you are in.
1. Get to know your bakery.
What is their delivery time, collect their contact details (don't stick to one contact number) how efficient is the customer service. Prefer online bakeries which have reviews of delivering at the right time.
2. Read the product description.
Product descriptions provided by online bakeries are extensive and easy to comprehend. Gather information about the features, weight, design, and even filling. Make sure you read about the ingredients and look for any possible allergens among them.
3. Check out customer reviews
Do a customized search you are looking at reviews. Look for reviews concerning your location. It will give you clarity about the fruitcake and its delivery.
4. Do an extensive search
Unlike the traditional bakeries, the fruitcakes won't be laid out to you when you shop on the internet. There will be categories within which you find options. It is advised that you look into everything before you make a choice. Just in case, you miss their exclusives or your favorite fruitcake while doing a quick search.
5. Know your delivery system and Pre-book your cake
Instead of looking for an online bakery with good fruitcake reviews, instead, look for bakeries that have good delivery reviews. Also, always pre-book your cake just to avoid any issues. Keep a note of the dispatch time while buying your cake online. Whether they are accurate and updated so that you have a solution for instant needs.
Collin Street Bakery is one of the most famous bakeries in the southern US.  Known for its signature fruitcakes which are alcohol-free, the bakery is situated in Corsicana, Texas. Collin Street Bakery's access to large nut quantities was one of the main reasons why the "nutty as a fruitcake" was derived.
For more articles visit this website